Where do we get our materials and what do we use to create these hand-lettered wares? Find out below! Listed here are the materials we use for paper, packaging material, envelopes and more.
Wander On Words™ strives to be an environmentally conscious company, bent on trying to preserve our planet as much as we can. We try to be as sustainable and eco-friendly as possible. We also try to source our materials from right here in the USA! Have more questions or ideas on how we can do better? Contact us today!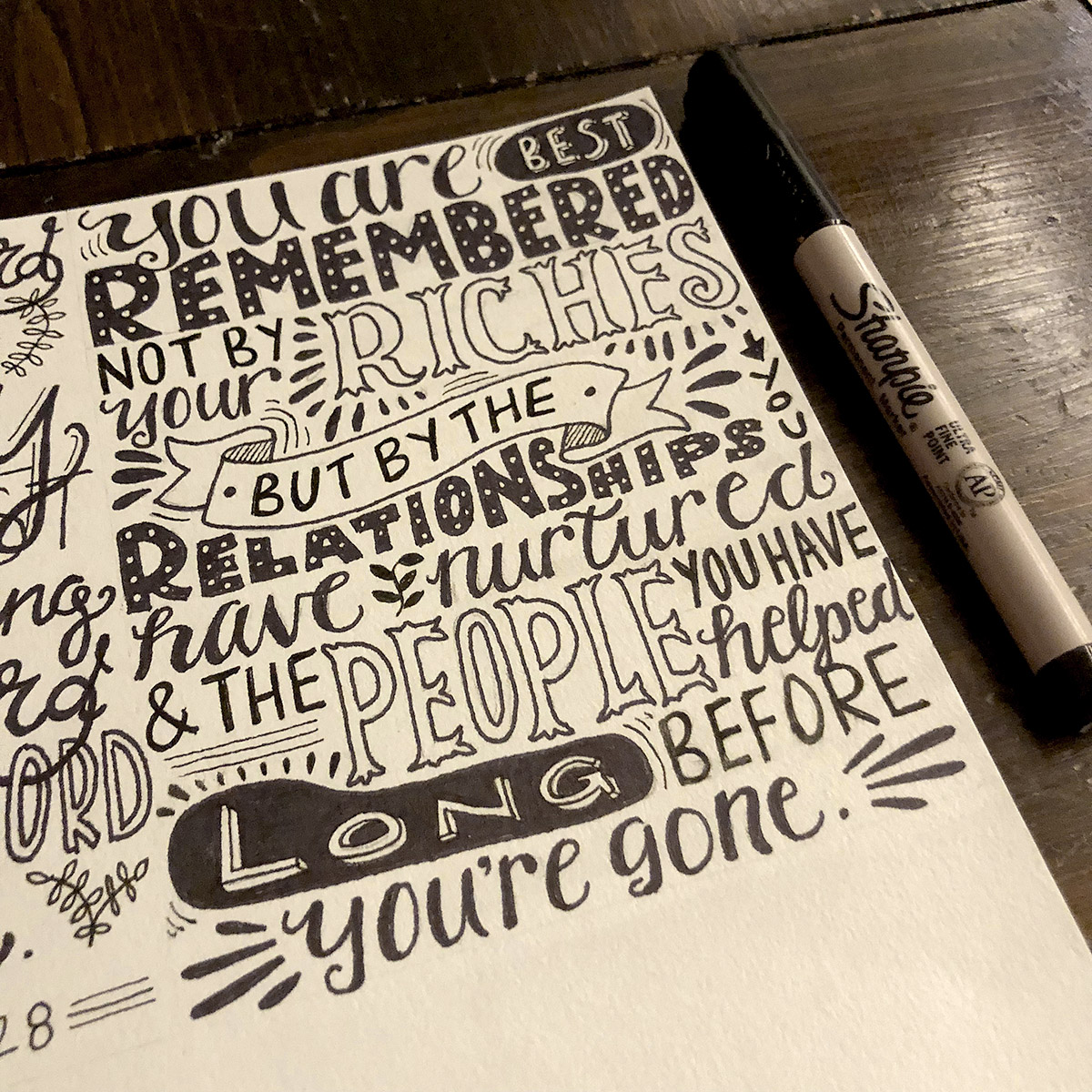 French Paper Company | Michigan
At Wander On Words™ we print our cards and prints on the French Paper Company's 80lb Cover Whitewash Construction Paper.

Established in 1871, the family-owned French Paper Company is one of the last American, small, independent paper mills. Since 1922, all French Papers are made using 100% renewable electricity generated by French's own green hydroelectric plant (saving over one million barrels of fossil fuels to date). French manufactures premium custom paper for graphic arts, printing, packaging, writing, text, cover, specialty, and gift applications. French's products are used in corporate brochures, pocket folders, corporate annual reports, advertising inserts, direct mail, business cards, hang tags, posters, scrapbooks, corporate identity programs, invitations, personal stationery, labels, and high-end packaging for point-of-purchase advertising.
ClearBags | California, Tennessee
We use Eco Clear Compostable Bags to keep our cards and prints in pristine condition and help protect the environment. We also use ClearBags Black 100% Recycled Backing Board to ensure our artwork doesn't get crinkled en route to you.

While plastic itself can stay in landfills for centuries, eco-friendly compostable bags and cases will break down over time and will reduce our impact on the planet. Since 1992, ClearBags' mission has been to help Promote, Protect and Preserve products like ours. For over 20 years, they have strived to be the packaging supplier of choice. ClearBags ascended to the #1 position in the marketplace by offering a large inventory of in-stock products, fast order turn-around, flexible order quantities, excellent customer service, and industry best pricing. ClearBags has over 2,500 products in stock and over 100K square-feet of warehouse space located at both the East Coast and the West Coast.
We use all different colors of 80lb A2 Invitation Envelopes to pair with our hand-lettered cards. These envelopes have an elegant square back flap and are easily sealed by a peel & press strip located on the back flap. The grocery bag envelopes that accompany our state cards are made with 100% recycled content.

From their start in 1971 as Action Envelope, a Queens, NY envelope printing company, founder Ken Newman served a local clientele of about 100. They focus on one thing: to provide the largest in-stock selection of sizes, styles, and colors to ensure customers find the perfect product for their unique needs. They combine this with quick shipments, quality printing, and great customer service to ensure total customer satisfaction. Today, as a second generation, 43-year young, family-owned and operated business, Envelopes.com continues to grow through innovation in our products, services, and customer experience. Their Core Values: With growth and transformations, it is always key to remember what's important.
Colleen of Wander On Words™ mainly uses sharpies to create her hand-lettered designs. She loves the tried and true Fine Point, as well as the Ultra Fine Point to help create her artwork.

"Sharpie" was originally a name designating a permanent marker launched in 1964 by the Sanford Ink Company. The Sharpie also became the first pen-style permanent marker. In 1990 Sharpie was acquired by The Newell Companies as part of Sanford, a leading manufacturer and marketer of writing instruments. In 2005, the company's popular Accent highlighter brand was repositioned under the Sharpie brand name. As of 2002, 200 million Sharpies had been sold worldwide. Today, Sharpie stands for far more than just markers. Made to write on, stand out on, and stay on practically any surface, it's The Permanent Marker born for unique, unruly, courageous, outrageous self-expression that never, ever fades from glory.
Mitchell's Tees | Vermont
We partner with Mitchell's Tees to create our screen printed apparel.

Located in the heart of the Green Mountains of Vermont, Mitchell's Tees takes pride in providing their growing customer base with a variety of branding services. Their family owned business offers quality products with great customer service.
Clear Solutions Displays | New Hampshire
We use handsome, sustainable Birch Plywood shelves from Clear Solutions to display our cards in shops and at craft shows.

What began in a chicken coop in Maryland, grew to a Vermont barn, and a very charming old Vermont mill, is now in a modern manufacturing facility in Hinsdale, New Hampshire. Besides making a quality product, Clear Solutions Displays offers you the service to back it up. Their one year warranty against breakage is as iron-clad as their dedication to your satisfaction. Creating quality displays for you is their mission. Making them in the U.S. is also important to them. They use only the highest quality acrylic sheet, and their skilled fabricators take great pride in each piece they produce. A good design, well made and carefully packed, is what you can expect every single time.